The best shorts in the world are returning to Warsaw's Atlantic Cinema in November. The Main Competition of the 22nd CINEMAFORUM will feature 15 films. Audience will have an opportunity to see Oscar-nominated movies and titles awarded at prestigious festivals like Cannes or Sundance.
The International Short Films Competition has been the centerpiece of CINEMAFORUM for years. This year, by the decision of the festival's artistic director Blazej Hrapkowicz, 15 titles were selected for the contest. On the screen of Atlantic Cinema, we will see short films from such distant parts of the globe as Brazil, Philippines, Indonesia, China, and Canada. There will also be space for European productions, including pictures made by Polish filmmakers. The list of the movies selected for the Main Competition of the 22nd CINEMAFORUM is presented below.
22nd CINEMAFORUM: Official Selection of the Main Competition
48 HOURS, dir. Azadeh Moussavi, Iran 2022
ALL TOMORROW'S PARTIES, dir. Zhang Dalei, China 2022
AN AVOCADO PIT, dir. Ary Zara, Portugal 2022
BASRI & SALMA IN A NEVER-ENDING COMEDY, dir. Khozy Rizal, Indonesia 2023
BOLERO, dir. Nans Laborde-Jourdaa, France 2023
CROSS MY HEART AND HOPE TO DIE, dir. Sam Manacsa, Philippines 2023
FAIRPLAY, dir. Zoel Aeschbacher, Switzerland/France 2022
FILE, dir. Sonia K. Hadad, Iran 2022
ICE MERCHANTS, dir. Joao Gonzalez, Portugal/UK/France 2022
LIVE, dir. Mara Tamkovich, Poland 2022
POLISH DREAM, dir. Malgorzata Suwała, Poland 2023
THE BEADS, dir. Rafaela Camelo, Emanuel Lavor, Brazil 2023
THE FLYING SAILOR, dir. Amanda Forbis, Wendy Tilby, Canada 2022
THE REAL TRUTH ABOUT THE FIGHT, dir. Andrea Slavicek, Croatia/Spain 2023
THE STORM, dir. Wendi Tang, China/USA 2022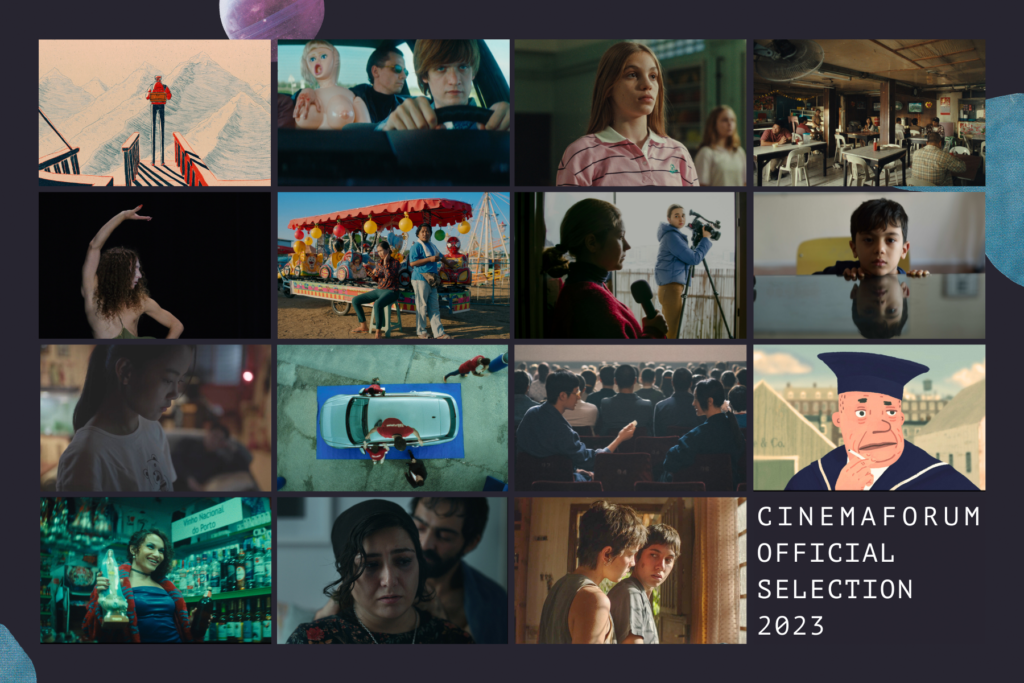 CINEMAFORUM – The 22nd International Short Film Festival will take place at Warsaw's Atlantic Cinema between November 22-26, 2023. The names of the winners of the Main Competition will be announced at the final ceremony to be held on the last day of the festival.
***
The organiser of the festival is the FILMFORUM Association.
The project is co-financed by the Ministry of Culture and National Heritage from the Fund for the Promotion of Culture and by the funds of the City of Warsaw. The festival is co-financed by the Polish Film Institute.
The main festival venue is the Atlantic Cinema in Warsaw.
The Andrzej Wajda Centre for Film Culture is the main partner of the event.
The programming partners of the festival are: Mazovia Warsaw Film Commission, Mazovia Institute of Culture, American Film Festival and British Council.
BEIKS Machulski is the technological partner of the project.